Of Samsung's latest foldable mobile offerings unveiled at its latest Unpacked event, the most dramatic changes we've seen come via the Galaxy Z Flip 5. Not only do we finally have a fully flat silhouette and a redesigned hinge, but Samsung has caught on that people like more screens, so it stuck a larger display on the phone's exterior.
Perhaps there are more people out there wishing for a burst of nostalgia from the flip phone days of yore, but a lot of my hopes for the foldable rest on the exterior screen, which Samsung calls its "Flex Window." A lot of versatility comes with a smaller, glanceable display that fits well into shorter pockets or bags.
My first few days with the Flip haven't been eventful. So far, it hasn't made me reconsider how I think about smartphones, or even how I use my device day-to-day. Some of the same widgets seen on the Z Flip 4's much smaller 1.9-inch screen are available here, but now you can actually interact with your full calendar and get the weekly weather report, akin to a less feature-rich smartwatch. You can also read emails and message back people on other apps like Instagram or Slack. Full functionality doesn't seem to be the goal of the Flex Window—you can't access your Gmail or mindlessly flip through TikTok there.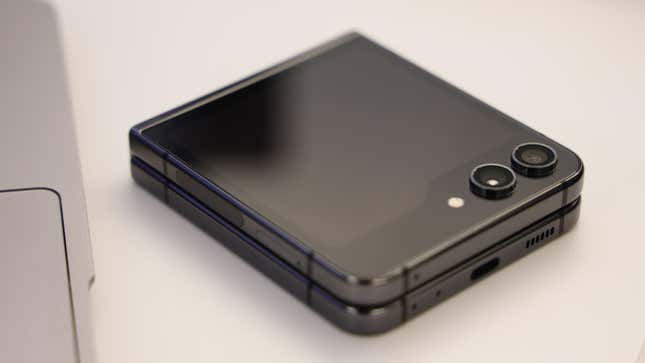 This limited use would be mitigated by a wider selection of apps, but users are currently limited to a few select beta video and messaging application that need to be enabled through the device settings. We could soon see more app availability through Samsung's Good Lock launcher, but in the meantime, I'm left feeling like I want more.
And it's not like Samsung can sit back as the only company offering flip-like foldables. The Z Flip 5 is going to be competing directly against Motorola with its Razr+ phone soon. Motorola's reimagined flip phone looked very much like a Galaxy Z Flip, though its 3.6-inch exterior screen wraps all the way around the rear sensors.
There are a few extra features that make the Z Flip 5 interesting for those seeking a different experience than the traditional smartphone. There's a Flex Mode setting when laying the phone half-folded on a desk which shows content on top and additional controls on the bottom. The exterior screen also offers a few unique options for taking timed photos or handheld videos. But at $1,000 starting price, I really wish I didn't feel like I was giving up a good quality camera for the sake of a squashable screen.