The Nissan Z was highly anticipated, especially after the decade that the 370Z was on sale. Buyers and fans have been ready for something new. While the Z has been on sale for over a year now, many buyers haven't been able to get their hands on one for a number of reasons. That hasn't stopped Nissan from going ahead and developing a high-performance version of the Z. Enter the 2024 Nissan Z NISMO.
Jalopnik Finds Another Top Secret Project Car at NYIAS: An S15 Nissan Silvia
Nissan stuck to the same playbook it used on the previous 370Z NISMO: a bit more power and track goodies. NISMO reworked the Z's twin-turbo V6 with improved cooling, improved boost and turbine speed on the turbochargers, and ignition spark timing that's based on the GT-R NISMO's. Engine oil cooling has also been enhanced for track duty. The result is 420 hp and 384 lb-ft of torque, a 20 horsepower, and 34 lb-ft of torque increase over the standard Z.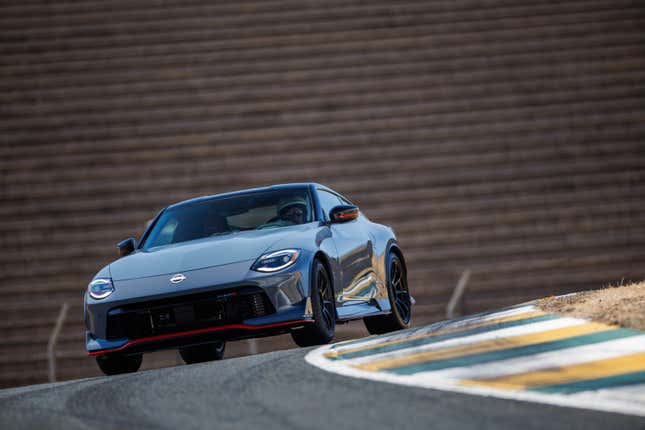 The Z's nine-speed transmission and performance settings have been slightly re-tuned as well. The engine management software was tweaked resulting in downshift timing that's been cut in half compared to the standard Nissan Z's Performance trim. A more aggressive launch control has been added as well as a new Sport + driving mode that Nissan says has shift programming specifically tuned for track duty.
Underneath the Z NISMO, the chassis has been stiffened. There's front and rear underfloor bracing Nissan says helps improve torsional rigidity by 2.5 percent. To increase lateral rigidity, the front and rear suspension bushings were stiffened as well as a stiffer mounting bushing for the steering rack.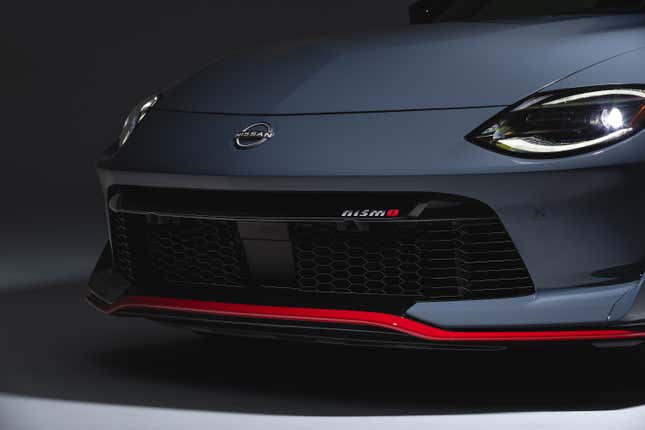 None of this means anything without the aero goodies to go with it. Up front, the fascia has a styling element Nissan calls "Grand-Nose'' or "G-Nose '', a design that extends the front of the vehicle further forward than usual. If you want to see something similar, Nissan did the same thing on the 1971 240ZG (G stood for the aforementioned nose). The redesigned front fascia has a grille of mesh Nissan says is the thinnest they've ever put on a production car; this creates less drag and allows more engine cooling. There are canards at the front corners for even more aero performance.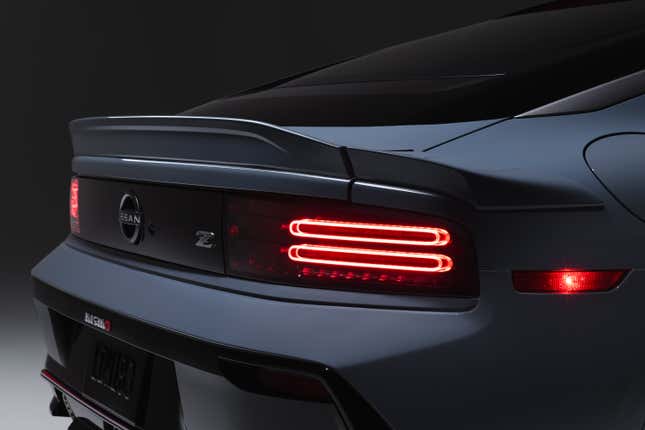 Around the back is a three-piece spoiler that's both taller and wider, wide enough that it extends into the corners of the rear bumper; the corners of the bumper have also been reshaped to reduce drag.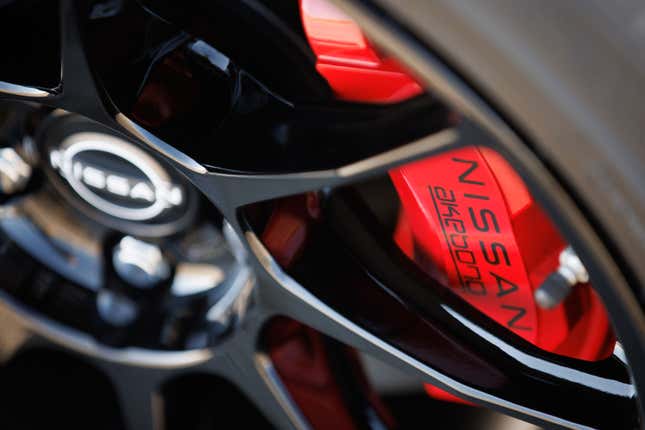 For visuals, there's a black painted roof and black 19-inch lightweight RAYS wheels with stickier Dunlop SP Sport Maxx GT600 tires lifted right from the GT-R. The Z NISMO also gets larger brakes with enhanced cooling for track duty; there are 15-inch rotors up front and 13.8-inch rotors in the rear.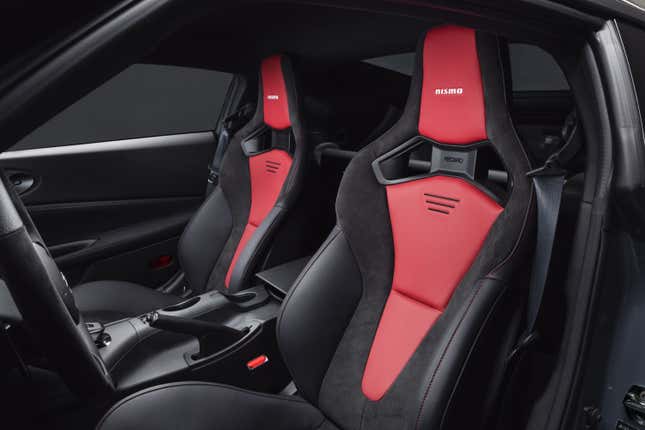 The Z NISMO's interior gets a small makeover. There are leather and Alcantara-covered Recaro sport seats that have red centers and headrests with the "NISMO" logo, leather and Alcantara-covered steering wheel with a red stripe at the 12 position, and red engine start/stop and drive mode buttons. The driver's TFT display features a red outlined tach with the "NISMO" logo and a special start-up animation that flashes red.
Nissan isn't talking pricing yet but told me they will announce it before the Z NISMO hits dealers this fall. Given that the last 370Z NISMO started just under $46,000, I'd expect the 2024 Z NISMO to start much closer to $50,000.